Still looking for gift ideas for kids? Then have a scroll through my Christmas Gift Guide for Kids.. All prices shown are correct at time of writing.
UPSIDE DOWN GAME
What happens when your world turns upside down? Find out when you put on the goggles and experience how easy tasks suddenly turn into a real challenge! Challenges such as Drawing, High Fiving and Pouring Water into a cup on each card. Family game night just got a lot more fun!
It takes just 20 minutes to play, great for either a quick game or an entire game night! For 2-6 players. Age 7+
Buy from Amazon £19.00, from Argos £20 and from Smyths Toys £19.99
MEGA SPIN SATURN YO-YO
Get ready to throw like a pro with the Mega Spin Saturn! Featuring a super smooth ball-bearing axle for incredibly long spin times – perfect for performing anything from basic to more advanced tricks! The butterfly shape is ideal for perfecting your string tricks and the flashing colour-changing LED lights on both sides add a whole new dimension to your throws! Replacement string included in every pack! Age 3+
Buy from Wicked priced at £10
MY SQUISHY LITTLE DUMPLING DIP
These squishy interactive toys are loaded with 50 reactions and emotions. The characters make their own cute sounds and unique animations when you interact with them. Dress them up, tickle them, shake them and toss them. Watch the top of their heads light up and their cheeks turn bright red with every squeeze! Designed with little ones' hands in mind, he's small enough to fit in your palms so you can squeeze for days on end!
This sensory toy is amazing squishy fun, providing a tactile experience for children. Sensory toys can help develop communication, fine motor skills and creative play. Each Squishy Little has its own endearing attitude and comes with two accessories to match! Which one will you pop: Dee, Dip, Doe or Dot? Collect them all and master their language with the "Squishionary" dictionary! Great fun to play with friends! Age 5+
Buy from Amazon starting from £16.47, from Argos £15 and Smyths Toys £9.99
3D MODEL CRAFT KIT – UNICORN
Build your own unique 3D craft collectible model. Beautifully detailed, yet simplified miniature animal figures with a couple of spoons of cuteness added in. There are 70+ adorable animals in the EUGY range to choose from! Kids will collect and treasure them. Made from biodegradable card with natural play ink and non-toxic glue. Simply glue the pieces together in numerical sequence, with assembly taking 10-20 minutes. Age 6+
Buy from Amazon starting from £10.32
T-REX PROJECTOR & ROOM GUARD
Bring realistic dinosaurs into your bedroom! This high-quality T- Rex shaped projector has 24 dinosaur images that will project onto your bedroom walls, up to one metre wide. Features 18 different types of dinosaur. Your T-Rex also becomes a guard for your room, roaring into action with each unwanted visitor. A trembler alert makes your T-Rex roar when picked up and a motion sensor detects movement.
At over 40cm long, the T-Rex makes a fantastic room decoration. A secret code unlocks fascinating online dinosaur facts and the set includes a bonus T-Rex door sticker. Age +
Buy from Amazon £37.99 or Smyths Toys £26.99
LiTTLEDUG TOY WORKSTATION & TOOL SET
Brought to you by BiGDUG, the LiTTLEDUG has landed with this Limited Edition Toy Workstation and Tool Set. Great for imaginative play and developing a child's fine motor skills. Bench also includes play vice and storage bins. Peg board panel for storing tools. 6 different tools including hammer and wrench. Age 3+
Buy from BigDUG priced at £9.99
LITTLE LIVE PETS 'GOT TO GO' TURTLE
Meet Shelbert the interactive plush rainbow turtle that wiggles, poops and talks. Teaches nurturing play-patterns and 'cause and effect' in a fun way. Feed him his magic turtle food, then watch his neck wiggle and wobble as he gobbles it down; Simply open his mouth, pour the Magic 'Turtle Food' down his throat… then close his mouth and watch and hear him sing his hilarious 'Uh Oh, Gotta Go' song. The fun never has to stop, as his food can be used again and again!
Demo batteries included. Age 4+
Buy from Amazon at £32.99, from Argos 33 and from Smyths Toys £32.99
POLLY POCKET RAINBOW FUNLAND
Get ready for a theme park adventure with Polly Pocket's 30-piece playset. Featuring 3 rides (a roller coaster, unicorn carousel and Ferris wheel). Along with 7 castle play areas, including three turrets (which kids can further explore to find a bathroom, an extra play space and a secret surprise–kids use a key to unlock a turret area to find the golden unicorn), a throne room, gift shop, game room and food court. Polly and Shani Dolls, 2 Unicorns & 25 Surprise Accessories (30 Total Play Pieces) Ages 4+
Buy from Amazon £44.99, from Argos £49.99 and from Smyths Toys £44.99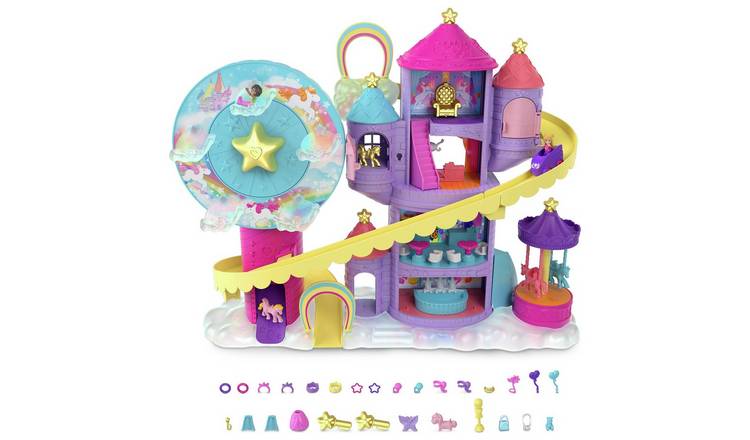 LINKIMALS DANCE n GROOVE PENGUIN
Move your flippers with this electronic learning toy, the perfect dance partner for your little one. Interactive lights and music teach the alphabet, opposites, counting and more. For infants and toddlers ages 9 months and older.
Buy from Amazon £34.99
BATMAN GIANT TRANSFORMING PLAYSET
Take your Batman missions to the next level with the Bat-Tech Batcave Playset with accessories! The massive Batman is over 83cm and transforms into an epic Batcave with everything you need to bring your Batman adventures to life! Open it up to reveal the Batcave with over 10 areas for action or close it up to transform it back into a giant Batman for easy storage!
The Bat-Tech Batcave Playset is jam-packed with exciting features and includes an exclusive 10cm Batman action figure and 9 exclusive accessories you won't find anywhere else. Discover the Batcomputer, Evidence Lab, Dojo, Power Generator, Garage, Elevator, Tool Shop, Jail, Armory and more!
Check the perimeter with the exclusive 10cm Batman figure in the Evidence Lab, monitor Super-Villain activity on the Batcomputer, head to the Tool Shop to get armoured up, and take the elevator down to the containment level to lock up Super-Villains in jail! There's even a hidden escape door! Age 4+
On sale at Amazon £118.99 or from Smyths Toys £119.99
Some of the links used on this site are what's known as "affiliate links". By buying through those links, I may receive a commission for the sale. This has no effect on the price to you.